Cancun
Relevance:
It provided the aesthetics for the Emerald Coast Beach Resort.
The Cancun resort shows some resemblance to the Emerald Coast beach resort featured in the game. Both resorts contain similar styled hotels, the triangular stepped shaped hotel featured at the start of the level are in abundance at Cancun.
When the camera is paned out at the start of the level we can see Sonic is located on a narrow strip of beach surrounded either side by sea. The resorts at Cancun are also located on a narrow strip of beach, the lagoon trapped behind is Cancuns characteristic feature, and we also see these lagoons in other action stages involving the Emerald Coast.
There are also some Jetties with thatched roofs located at Cancun similar to the one featured at the start of the Emerald Coast level.
Information:
Cancun is built in a location that was named by the Mayan people long ago, for the large number of Snakes that inhabit the area. Long gone are the Snakes and Mosquitoes that might have enjoyed the numerous lagoons. Few resorts have the infrastructure and amenities that were built into Cancun from the very beginning.
The tourist zone, a narrow island 14 miles long, is the area of Cancun where it comes together for most visitors. Hotels and beachfront condominiums line the beaches and serve as a nearly uninterrupted backdrop along this stretch of incredible Caribbean coastline. On the inland side of Cancun Island is Laguna Nichupte, a vast lagoon that severs home to numerous marinas, waterfront restaurants, shopping malls, two golf courses, a few islands and inlets and some fantastic sunsets. Laguna Nichupte is fed by fresh underground water and is connected to the sea in two places which in turn provides an outlet for the numerous water activities that take place. There is a center near all this known as the Party Zone which is home to many of the areas nightclubs and discos. The very same area is also home to some of Cancuns better restaurants and shopping malls.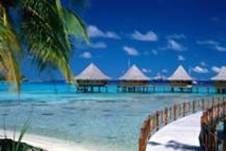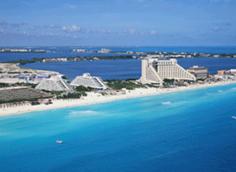 Above, left to right: 1] Photo of a jetty at Cancun 2] Photo of the Cancun beach resort.