Master Researcher of 2006 (so far) interviewed Peter Morawiec about his work in Sega Technical Institute! Here's the first half (second half is a bunch of Comix Zone related questions) of the interview.


HXC: What games did you work on while at Sega Technical Institute?

P: Sonic 2 (Bonus Stage design assistance), Sonic Spinball (Lead Design), Comix Zone (Lead Design), Sonic Saturn & Sonic Pool (Saturn concepts/prototypes)


Which was your favourite project to work on?

P: Spinball was my first full project, so it was super exciting, but it was also a title we had to get out in something like 9 months, so it showed. ComixZone was a game I was extremely passionate about -- definitely my favorite project while at STI.


What was your usual day like?

P: Long. I was single and had no kids back then, so I was in no hurry to get home. I loved the job and would stick around doing and learning stuff. The Sonic Team guys were notorious for working ridiculously long hours (some of them slept on the floor in their cubes) and I enjoyed venturing over to their area to see what they had going on – some of those guys were just amazing artists, just drawing these great designs non-stop. As for diversions, a few times a week I'd go play b'ball with Chris Senn and every Friday night a number of us would carpool to North Beach in San Francisco (Little Italy) for food, beers and to hang out; it became part of our routine for solid 2-3 years.


What are your general recolections of the time at STI? Any intresting events, etc

P: I joined in early 1992, when Mark Cerny was in charge. I was very green but I was thrilled to be a part of the industry and working with some of Sega guys from Japan. STI was very experimental back then with many cool and wacky game concepts in the works. This was a time when the Genesis was starting to seriously take off and SEGA was beginning to grow, so there was a lot of excitement around the company – I would always look forward to the SoA employee meetings to see what cool new titles or hardware were in the works. Initially, there was a lot of camaraderie and co-mingling with the Japanese team, but it didn't last and soon they were moved off to a separate room. By 1995 most of the Sonic Team were back in Japan (working on Nights) and STI became pretty corporate and political. But it was definitely good times!


Were either of you involved in the cancelled Sonic X-treme? It's of big importance to us to find out as much as we can about this, so if you were, would you mind us asking some more questions about it in a further email?

P: Sonic X-treme was Chris Senn's and Ofer Alon's baby, started while Adrian and I were still working on Comix Zone. After that, we struck a deal with Sega to let us set up a satellite office in LA (STI Burbank) to work on next-gen Saturn tech/concepts, but those were unrelated to X-treme.


Again on X-treme, recently, there was an auction for a demo of the game, what we suspect to be the very last version of the game, after the NiGHTS engine and the fisheye camera, can you shed any light on this? Pictures can be seen here: http://www.lostlevels.org/stuff/xtremepics/

P: Gee, I don't really recognize these screenshots. Chris Senn is your best bet here. I do remember a very cool level editor Ofer was developing for the game on a Mac, but that's about it. I do know that there was some serious anxiety about X-treme toward the end and some other programmer within STI hacked together some quick demos to appease the execs; perhaps this is one of those builds?


Do you have anything left you would be willing to share with us?

P: I dug up some concept artwork from the Sonic Saturn projects Adrian and I worked on at STI Burbank (see attached).






Attached Images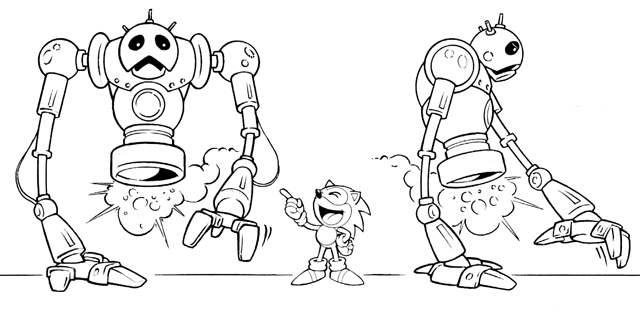 Cybernik bad guy concept.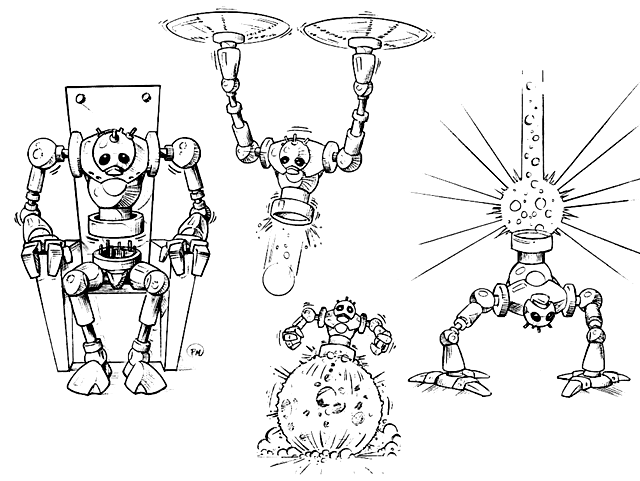 Cybernik bad guy again.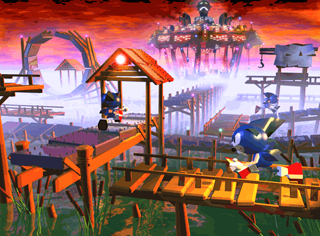 WET LANDS concept art


Ultra Widescreen Background art


Comix Zone nextgen concept art