Not all that interesting, but still kinda cool, Sonic Spinball prototype has only slight differences from the final version. The music is different, same goes for the beginning intro. You can move anywhere on the screen by pressing pause, and the boss on showdown is invincible. So basicly, this is only interesting to those who like prototypes or like Sonic.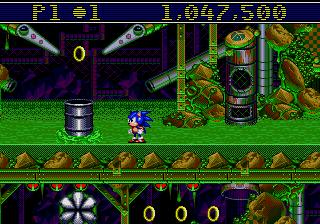 ---
DIFFERENCES?

THE GAME IS IN DEBUG MODE DURING PAUSE!!!
You also can NOT beat the game.
The last boss is invincible.
Pulling a switch to let the bridge up plays a small sonic 2 sound byte.
No options menu.
The SEGA screen has no "sparkle" sounds.
Unseen Animals come out, such as: A different bird then the final, a bat, a bee, and a butter fly.
And there is no music on the main screen. Whew!

---
TRAINER?

It had a trainer at one point, that appears to be hacked out, or they planed on making one. Viewing the ROM in a hexeditor, the text can be viewed:
PREMIERE 1993 PROUDLY PRESENTS - SONIC THE HEDGEHOG SPINBALL - BETA. - SUPPLIED BY WINSTON. - GIVE OUR BBSES A RING - END OF THE WORLD . BIOMECHANIC DREAMS . FUCK WHAT U HEARD . -OR- SCHIZOPHRENIA - GET THE NUMBERS FROM SOMEWHERE OR SOMEONE. - GREETINGS THIS TIME ARE GOING OUT TO - CENSOR - MAGICAL - FAIRLIGHT - BASELINE - ANTHROX - ELITENDO - PARANOIMIA - PARADOX - QUARTEX - CYNIX - ACCUMULATORS - DENIAL - THE LYNCH MOB AND EVERYONE ELSE WHO THINK THAT SHOULD BE MENTIONED HERE - SPECIAL THANKS TO PSYCHO OF CENSOR FOR THIS INTRO. AND NOOGMAN OF COMPLEX FOR THE COOL LOGO. - I GUESS IT WILL RESTART NOW. LATERS

---
Extra ROM?

A version of Sub Terrania was found inside this rom, somehow attached when it was discovered. Download this rom here: Hidden Sub Terrania ROM
Holding different buttons while pressing start will cause different levels to load.

---
OTHER SHIT??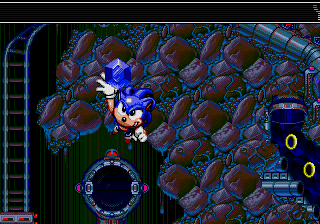 The image on the left is Sonic getting an emerald in the prototype. The right one is Sonic Getting an emerald in the final.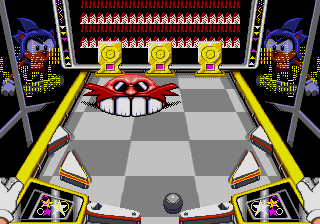 Every bonus level is the robotnik tooth bashing level with different colors and garbled screen behind him.
---
INTRO REPLACEMENT
The intro is still in there, someone managed to hack the intro back in!